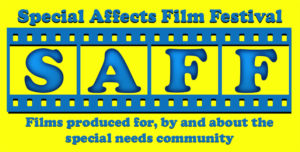 August 19-21, 2016
The Special Affects Film Festival is dedicated to showcasing the finest films being produced for, by and about the special needs community in the world today. Now more than ever before, the special abilities of people living with intellectual and physical challenges are being highlighted in film and television roles, as well as behind the scenes in every aspect of production from directing and producing to serving as valuable members of the crew.
We are seeking films of all genres and running times where at least one aspect of the production involved the betterment of the special needs community.
The SAFF take place at the Marin Museum of Contemporary Art at the beautiful Novato Arts Center at historic Hamilton Field in Novato, California. The museum has a main gallery as well as the Ron Collins lobby gallery, a museum store, a classroom, and artist studios.
Full Schedule of Events and Films coming soon!
Special Affects Film Festival proudly accepts entries via FilmFreeway.com, the world's best online submission platform. FilmFreeway offers free HD online screeners, unlimited video storage, digital press kits, and more.
Click to submit with FilmFreeway.

Sponsored by: